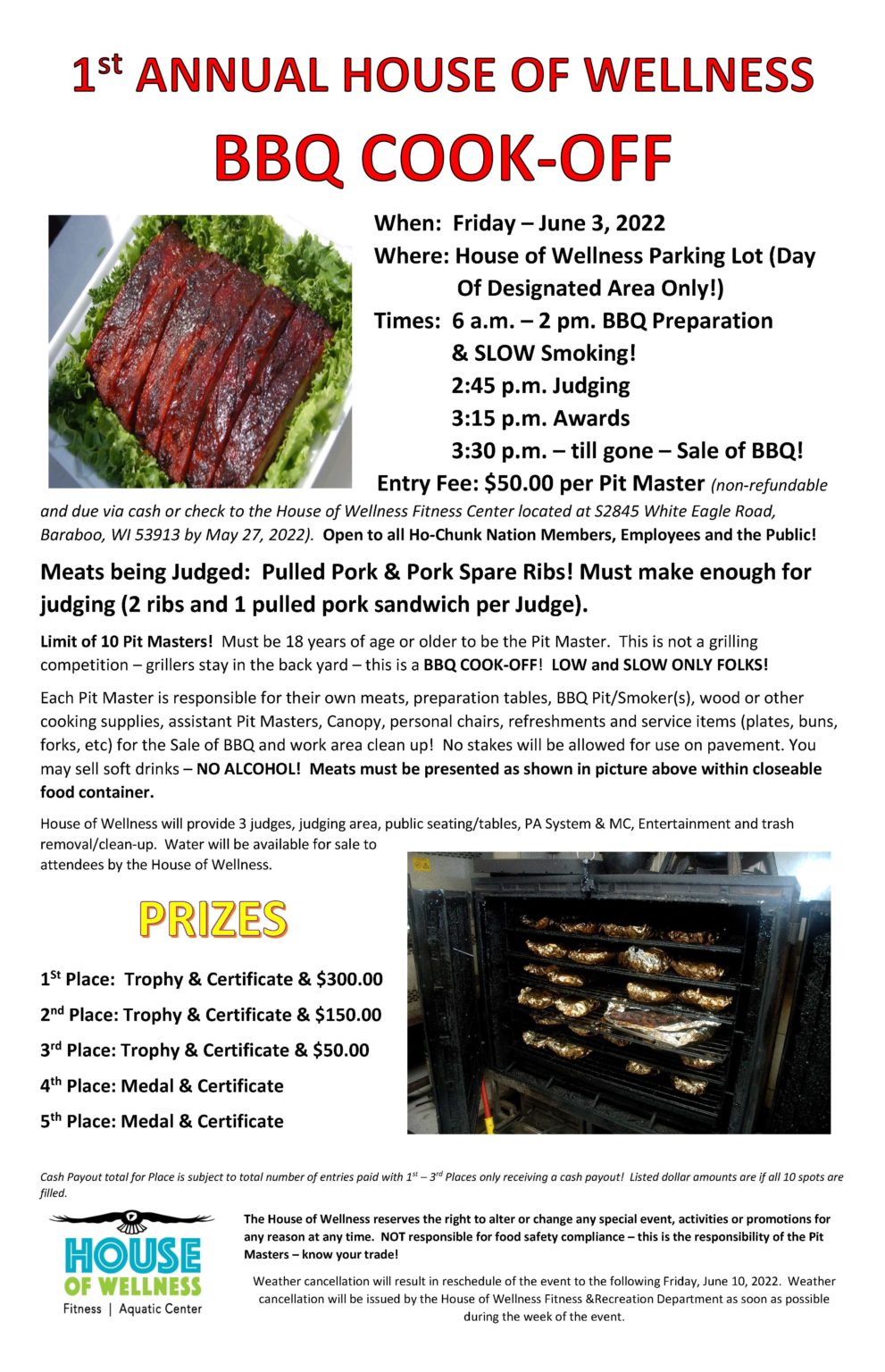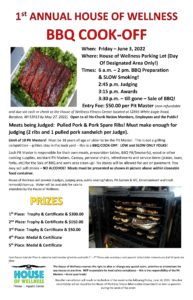 1st ANNUAL HOUSE OF WELLNESS
BBQ COOK-OFF
When:  Friday – June 3, 2022
Where: House of Wellness Parking Lot (Day
               Of Designated Area Only!)
Times:  6 a.m. – 2 pm. BBQ Preparation
              & SLOW Smoking!
              2:45 p.m. Judging
              3:15 p.m. Awards
              3:30 p.m. – till gone – Sale of BBQ!
Entry Fee: $50.00 per Pit Master (non-refundable and due via cash or check to the House of Wellness Fitness Center located at S2845 White Eagle Road, Baraboo, WI 53913 by May 27, 2022).  Open to all Ho-Chunk Nation Members, Employees and the Public!
Meats being Judged:  Pulled Pork & Pork Spare Ribs! Must make enough for judging (2 ribs and 1 pulled pork sandwich per Judge).
Limit of 10 Pit Masters!  Must be 18 years of age or older to be the Pit Master.  This is not a grilling competition – grillers stay in the back yard – this is a BBQ COOK-OFF!  LOW and SLOW ONLY FOLKS!
Each Pit Master is responsible for their own meats, preparation tables, BBQ Pit/Smoker(s), wood or other cooking supplies, assistant Pit Masters, Canopy, personal chairs, refreshments and service items (plates, buns, forks, etc) for the Sale of BBQ and work area clean up!  No stakes will be allowed for use on pavement. You may sell soft drinks – NO ALCOHOL!  Meats must be presented as shown in picture above within closeable food container.
House of Wellness will provide 3 judges, judging area, public seating/tables, PA System & MC, Entertainment and trash removal/clean-up.  Water will be available for sale to attendees by the House of Wellness.
        PRIZES
1St Place:  Trophy & Certificate & $300.00
2nd Place: Trophy & Certificate & $150.00
3rd Place: Trophy & Certificate & $50.00
4th Place: Medal & Certificate
5th Place: Medal & Certificate
Cash Payout total for Place is subject to total number of entries paid with 1st – 3rd Places only receiving a cash payout!  Listed dollar amounts are if all 10 spots are filled.
The House of Wellness reserves the right to alter or change any special event, activities or promotions for any reason at any time.  NOT responsible for food safety compliance – this is the responsibility of the Pit Masters – know your trade!
Weather cancellation will result in reschedule of the event to the following Friday, June 10, 2022.  Weather cancellation will be issued by the House of Wellness Fitness &Recreation Department as soon as possible during the week of the event.