The mission of the Department of Social Services is to provide holistic preventative and protective services or referrals to each tribal member, from the very youngest to the most elite of elders. Our goal is to provide services in an effort to increase the self-sufficiency of the tribal membership while maintaining the inherent traditions and customs of the Ho-Chunk Nation.
Social Services is located at
808 Red Iron Road
P.O. Box 40
Black River Falls, WI 54615
Phone: 715-284-2622 ~ 888-343-8190
Fax: 715-284-9487
Intake
Direct: 715-284-8080
Toll Free: 855-732-5341
Fax: 715-284-0097
Domestic Abuse Crisis Line:
877-847-8689
Child and Family Services
Programs
Initial Response Program
The Initial Response Program is the first point of contact for the CFS Division. The program receives reports of abuse and neglect for children, vulnerable adults, elders and ICW notifications. Requests for service assistance for children, families, vulnerable adults and elders where there are safety and protection concerns come to this Program. Primary intake data is collected by this Program.
Eligibility:
Receive referrals of abuse, neglect and ICW notifications. Receive service request from enrolled members and provide initial service or resources.
Ho-Chunk enrolled tribal members or children of enrolled members.
Placement Home Program
The Placement Home Program recruits Ho-Chunk families, licenses, trains, provide compliance and relicensing for Placement Homes. This Program's primary focus is the families who CFS has taken legal custody through the Investigation Program and become on-going under the Tribal Court Child Protection ILS Program. The goal is to find relative placements for the children in out of home care.
Eligibility:
HCN enrolled children, children eligible for enrollment and children of enrolled members
Investigation Program
The Program is assigned to investigate the reports of abuse and neglect of children, vulnerable adults and elders. This program has the responsibility to determine if there are safety risks and the ability to protect the children, vulnerable adults and elders of the caregivers. If necessary, action will be taken to assure the safety and protection of the individuals of the investigation focus and any other individuals determined through that investigation. The HCN Department of
Justice represents CFS in these actions petitioned to HCN Trial Court.
Eligibility:
Ho-Chunk enrolled tribal members or children of enrolled members
Tribal Court Child Protection and Independent Living Skills Program - on going services
The Child Protection Program provides on-going child protection and independent living skills services. The social workers provide services determined through the HCN Trial Court protective services actions. The independent living skills provide mandatory services to those 15 to 17 and voluntary to those 18 to 21 years of age. The HCN Department of Justice represents CFS in the child protection cases in the HCN Trial Court.
Eligibility:
HCN enrolled children, children eligible for enrollment and children of enrolled members
Be a child/family in need of protective services
Independent Living Skills Program
HCN youth that are in out of home placement through the HCN Trial Court under a Child in need of protection order that has been out of placement for 6 months and is age 15 to 17
HCN enrolled member that is 18 to 21 and has been in out of placement through HCN Trial Court
HCN youth that are under a CHIPs action in a county court system (15 to 17) and choose to use HCN ILS services versus County ILS services
HCN enrolled member that is 18 to 21 and was in out of home placement through the County Court system
ILS Program receives grant funding from the State of Wisconsin and if an individual from another Tribe lives in the community and meets the above criteria and request ILS services then this program must serve or risk grant funding
Indian Child Welfare Program - on going services
The Indian Child Program intervenes into child protection cases in County or State jurisdictions. The Social Workers represent the Ho-Chunk Nation's interest in the children placed in out of home. They provide a link to culturally appropriate services for the children and families and for culturally appropriate education for the County or State of jurisdiction. The HCN Department of Justice represents CFS in the child protection cases in the County and State.
Eligibility:
HCN enrolled children and children eligible for enrollment
Disability and Elder Program-on going services
The Disability and Elder Program provides on-going facilitation of services for children with disabilities ages 0 to 17.6 through the adulthood transition. The social workers will provide intervention services to disabled, vulnerable adults and elders. The Disability and Elder Program provides individuals and their families with a continuum of care that will span a lifetime.
Eligibility:
Be an enrolled member of the Ho-Chunk Nation
Ages birth through adulthood
Has a documented disability or
Has a disability and needs services to receive a disability determination
Needs assistance with the Long Term Care services system (birth through adulthood)
Has a short term disability and is in crisis and needs short term case management services
Aging and Disability Resource Specialist (STATE Grant)
Any Enrolled Tribal member age 18 plus in need of
information and referral services who is disabled or
elderly
Anyone seeking services for a Tribal member age 18
plus in need of services who is disabled or elderly
Quality Assurance Program-Division program support services
The Quality Assurance Program will work to promote effective services to all Programs of the Child and Family Service Division. This program employs the CFS Specialist who will provide administrative and program support to all of the Programs in the Division. This Program will provide quality effectiveness audits.
Eligibility:
Individuals that are eligible for other CFS Programs
Referrals made from CFS Programs
Child Support Agency
The functions of the Ho-Chunk Nation Child Support Agency are limited to IV-D functions:
Establish paternity: Identifying and legally determining the father of a child.
Establishment of Support: The total dollar amount of child support, including but not limited to payments for current custodial child support, custodial arrears, cash medical support and the child's share of health insurance, that the paying party is obligated to pay to meet his/her current financial duty to support his/her child as established through judicial and/or administrative process.
Enforcement: The enforcement of court orders for support, including the registration and enforcement of child support orders from a foreign jurisdiction.
Locate: locating absent parents and their assets, for the purpose of child support.
Community Supportive Services
Economic Assistance Program
Provides financial assistance to qualifying tribal members in financial distress to attain or retain basic living needs. (Application/checklist, job search form, budget form, W9 form links here.)
Child Care Assistance Program
Provides financial assistance for child care to Parent(s)/Guardian(s) of our Ho-Chunk children. This program operates on a voucher system with payment going directly to the licensed child care provider. (CCAP Handbook link here.)
Coordinated Services Team (CST)
To facilitate wrap around services, find additional resources, and advocate for youth with all involved based on the youth's specific needs.
Qualifying for CST Services- A child having needs in two of the following areas:
Behavioral Health (Mental Health/AODA)
Academically Challenged- Individual Education Plan (IEP)
Medically Fragile or Physically Disabled
Child Welfare Services (ICW, Child Protection, Juvenile Justice)
At Risk for Out of Home Placement
Other Interventions Have Not Yet Been Successful
Most Importantly: Parents are willing to be involved in the CST process
Family Services Program: Life Skills Coordinators
Provides culturally infused prevention education and recovery support to any Ho-Chunk members and also their communities.
Self-Empowerment is the main goal for our Life Skills Coordinators. Helping you build your confidence and regain control of your life in all aspects can be worked towards within this program. These efforts may include collaborating with other programs to best assist you in reaching your goals.
You will find Life Skills Coordinators working within our HCN Youth Centers, various county jails, as well as in many of our Ho-Chunk based communities providing culturally infused workshops and one on one assistance. Let us know how we can assist you.
Clan Mothers
To revive an age-old tradition of our elders teaching our young. Come learn about your Clan identity and roles, Ho-Chunk relationships, and gain a better understanding of the importance of spirituality.
Domestic Abuse
Services:
Domestic Violence Advocacy
Sexual Assault Advocacy
Restraining Order Assistance
Court Accompaniment
Supportive listening
Crisis Line 1-877-847-8689
Safety Planning (If you are not able
or are not ready to leave, we can still help you
stay safe by developing a safety plan)
Community Resource Referrals
Housing, economic, employment, childcare.
Transportation
Assistance with coordinating transportation to a safe environment, court hearings, appointments, etc.
Community Education
We can speak or present on Domestic Violence and Sexual Assault related topics for your school, work, or other community group.
Social Services Building
P.O. Box 40
808 Red Iron Rd.
Black River Falls, WI 54615
Office Phone: (715) 284-2622 x5135
Ho-Chunk Nation
DV/ SA Crisis Line: 1-877-847-8689
National Sexual Assault Hotline: 1-800-656-HOPE (4673)
National Domestic Violence Hotline: 1-800-799-SAFE (7233)
Statewide Shelter Locator: 1-800-236-7660
If there is immediate danger, call 911!
Independent Living Facility
The Independent Living project was designed to meet the need for an Elder community facility to improve the quality of life of our Elder occupants. Located within the West Sand Pillow property, the facility will increase visibility and accessibility; promoting healthy living, safety and community living among Ho-Chunk Elder occupants. The Independent Living facility has 8-rental units that will house Ho-Chunk Elders age 55 and up.
About the Facility
The exterior landscape, walking trails and nearby District 1 Community Center will promote family friendly living and provide health and wellness through physical and mental activity. Within the Ho-Chunk Nation, there is an abiding tradition of respect for honoring of Elders. The Elders of the Ho-Chunk Nation are valued resources and we believe that this project will enhance the Nation's ability to preserve an Elder's connection with his/her family, community and culture.
Occupants of the property will enjoy the following services and amenities:
Eight (8) Private 1-bedroom apartments (for individual elders or elder couples)
24-hour video surveillance of property
Educational, social and cultural opportunities and entertainment events throughout the year, when available
Maintenance of community areas and grounds
Community kitchen, living room and recreational/dining area
The facility will be managed by the Ho-Chunk Nation Department of Social Services, under the new Independent Living Division. The rental application, selection process and guidelines are under review and can be requested from the Independent Living Division. If you have any questions or would like an application please contact Kelly J Funmaker at 715-284-8788 or email kelly.funmaker2@ho-chunk.com.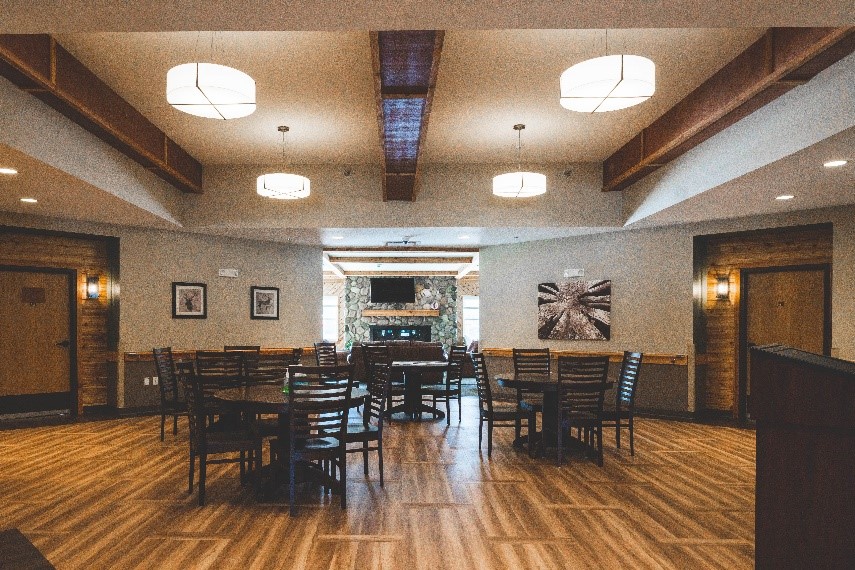 Tribal Aging Unit
Following is a list of services/assistance that TAU provides:
Nutritional Meals:
HCN Tribal Aging has 5 mealsite locations in Wisconsin: Nekoosa, Wittenberg, Tomah, Wisconsin Dells and Black River Falls.
Congregate
Home-delivered
Meals provided from the County for out of mealsite area Elders
Nutritional Education
Transportation:
Medical – Always first priority
Non-Medical Errands – Workshops / Field Trips / Conferences / Picnics / Grocery Shopping / Errands, etc. (We recommend a 48 hour notice, but will transport at a shorter notice upon availability of Driver)
Energy Assistance
200 gallons or equivalent per fiscal year
Minor Home Repairs:
For the Health & Safety of the Elder. A TAU work order must be completed along with proof of home ownership, such as deed and insurance before home repairs. (Emergency Major Home Repairs will be taken care of and reimbursement will be requested from the Elder Assistance Program through the TAU Elder Board)
Appliances:
Repair or replacement of Stove, Refrigerator, Washer, or Dryer
Lawn Mowing/Snowplowing:
In conjunction with Ho-Chunk Housing and/or outside vendors
Medical Goods & Supplies: (Elders 60-69 require medical prescription)
Including but not limited to Walkers, Canes, Wheelchairs, Grab Bars, Incontinence Supplies, Noncovered medical items
Hearing Aid Batteries
Other:
Pest Control
Septic Pumping
Lifeline
Medical Hotel/Meals when the Elder's Home is 50 miles or further from the hospital:
Up to 3 night hotel stay and $50 daily meal allowance when immediate family member is in the hospital ICU/CCU
Hotel stay the night prior to Elder's medical appointment/early morning appointment
Legal/Benefits Assistance:
TAU has 2 Elder Benefits Specialists that will assist Elders with Legal/Benefits Assistance to include
Medicare, Medical Assistance, Social Security, Wills, Consumer Problems, etc.
Elder Requests other than those mentioned above, may receive assistance on a case by case basis depending on circumstances.
TAU ORGANIZATIONAL CHART

Youth Services
The mission of the Ho-Chunk Youth Services Division is to meaningfully enhance the lives of our youth through cultural learning opportunities, collaborations, and exposure to sustainable living practices.
The vision of the Ho-Chunk Youth Services is to empower our youth and families through Hoocąk culture, creating productive members of societies in which they live by working to develop and preserve a positive identity, through quality and holistic programming for future generations.
• Ho Chunk Language – Youth Services will use listed Ho Chunk words and phrases to be used every day. This will allow us to build Ho Chunk vocabulary with employees, youth and their families along with writing and reading the words.
• Ho Chunk History and Historic timeline – Our history gives us a detailed picture of how society, technology, and government worked so that we can better understand how it works now. Youth Services will help educate our youth and families with the Ho-Chunk history from Elders and others who know where we came from and who we are.
• Ho Chunk Government – The essence of Ho Chunk sovereignty is the ability to govern, to protect and to enhance the health, safety, and welfare of Ho Chunk citizens within Ho Chunk territory. Youth Services will address the well-being and protection of Ho-Chunk children, families, and communities. Youth Services will teach and learn the structure of the HCN government. The Youth Council be involved in the program by using leadership skills to continue to build the YS program.
• Ho Chunk Traditions and Culture – Tradition is the handing down of information, beliefs, and customs by word of mouth or by example from one generation to another without written instruction. Culture is made up of values, beliefs, underlying assumptions, attitudes and behaviors shared by a group of people. They help form the structure and foundation of our families and our society. Youth Services will work towards helping address Ho-Chunk traditions with our youth and families.
• Prevention and Safety – Prevention is about choices. Youth Services will bring awareness, promote healthy choices and educate. Safety is about taking steps to avoid or reduce risk. Youth Services will give tools to help youth make the right choices.
• Life Skills - Are necessary for full participation in everyday life. Life skills are abilities for adaptive and positive behavior that enable humans to deal effectively with the demands and challenges of life. Youth Services will give youth more than information, we will give youth tools to navigate through life, such as decision making skills and social abilities that help a person feel more connected.
• Parenting and Family Activities and Resources – Family values are traditional or cultural values that pertain to a family's structure, function, roles, beliefs, attitudes, and ideals. Youth Services will help build and understand their family value. We will direct parents to resources available in each Youth Services area.
Black River Falls D1CC YC
N7261 Warrior Avenue
Black River Falls, WI
(715) 284-2622 ext. 15218
Green Bay YC
2413 Hazelwood Lane
Green Bay, WI
(800) 294-9343 ext.
La Crosse YC
724 Main St.
La Crosse, WI
(800) 294-9343 ext. 15407
Madison YC
4724 Tradewinds Parkway
Madison, WI
(608) 242-1640 ext. 13224
Milwaukee YC
3501 S. Howell Ave.
Milwaukee, WI
(414) 747-8680 ext. 15475
Nekoosa YC
4946 Winneshiek Ln.
Nekoosa, WI
(715) 886-5128 ext. 18001
St. Paul YC
1724 Selby Avenue
St. Paul, MN
(800) 294-9343 ext. 11194
Tomah YC
430 Julie St.
Tomah, WI
(608) 374-3960 ext. 13361
Wisconsin Dells HOW YC
S2845 White Eagle Rd.
Baraboo, WI
(608) 355-1240 ext. 15553
Wittenberg YC
W17634 Radke Road
Wittenberg, WI
(715) 253-3369 ext. 13088