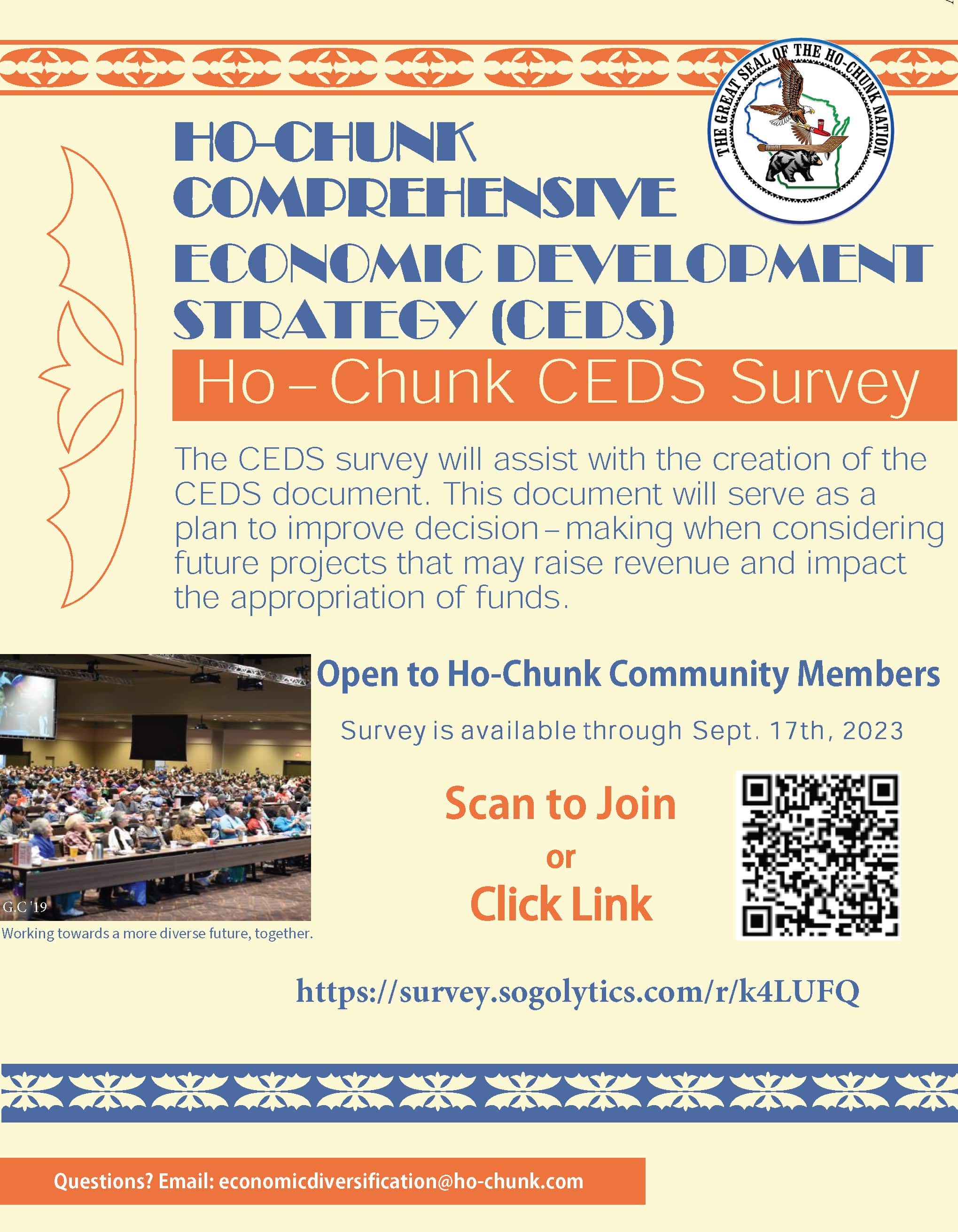 On July 1 2021, notice of an $894,960 grant award to the Ho-Chunk Nation was announced by the Economic Development Administration (EDA).  The award will be used to develop a comprehensive economic development strategy (CEDS) to assess assets, resources, human capital and avenues in which to engage in economic diversification.
In an effort to achieve economic independence the Ho-Chunk Nation and adjoining communities became dependent on gaming revenues to help support the Ho-Chunk Nation communities and local economies.  The Ho-Chunk Nation was awarded grant funding to develop an Economic Diversification Strategy Plan and three (3) positions specific to implementation of the Plan.
The pandemic has tested the vulnerability of our economic foundation which makes the Ho-Chunk Nation compelled to adapt to the ever evolving socioeconomic changes aimed at reducing the damaging effects of an at-risk national and global economy.
The objective of the Plan is to shift the Ho-Chunk Nation economy away from the dependency of limited income revenue generating sources on the Ho-Chunk Nation territories toward multiple sources consisting of a growing range of sectors and markets such as agriculture, renewable energy, information technology, health, education, cultural perpetuation and tourism, manufacturing, and retail.
The Plan will also include a framework for the development of institutional diversification.  It will also include ways to develop institutional capacity and improve understanding on how economic diversification can be integrated into sustainable development plans, especially those that promote sustainable economic growth and the reduction of poverty within and outside the Ho-Chunk Nation lands.
The Plan will benefit the Ho-Chunk population with job creation, living wages and benefits.  Adjoining communities will experience capacity building through a variety of resources such as businesses, private and public organizations, education, and training.
The aim is to create economic stability using industry innovation to drive economic growth and increase revenues.  The end-goal is to maximize valuable resources by providing the information required for informed decision-making and economic planning to increase profitability and employability.
Establishing the groundwork with the development and execution of an Economic Diversification Strategy Plan will set the stage for diverse economic growth. Creating a value platform in the market place, both in the United States and globally, will facilitate product efficiency and customer growth using a blend of conventional methods and digital economy.
Welcome the CEDS Team
Economic Diversification Director
Kyle WhiteEagle
Kyle grew up in Wisconsin around the Baraboo area. Always surrounded by his loving family, which helped foster strong family values, he was able to learn from seeing other experiences as well as experiences of his own. Sports have always been a part of his life which cultivated his commitment and determination with all aspects of his livelihood. Mr. White Eagle also enjoys helping around community events and church activities; furthermore, he was a mentor for his hometown school district and a basketball coach for that high school.
Kyle Graduated from the University of Wisconsin-Whitewater in 2018 with a Bachelor's Degree in Business Administration and also holds an Associate's Degree. Mr. White Eagle has had many different occupations which further broadened his comprehension and understanding of the different ways tasks can be completed. He worked in roles of being a thinker, producer, improver, and builder. Having worked in the casino industry as a Market Research Analyst, he has had great experience with data analytics; in addition, Kyle worked as a Grants Manager working within the guidelines of grant funding.
Mr. White Eagle is excited for this opportunity to work as the Economic Diversification Director within the Ho-Chunk Nation to create the Comprehensive Economic Development Strategy document.
Economic Diversification Coordinator
Danee Walker
Danee originates from the Wittenberg area. She has worked for the Ho-Chunk Nation in different capacities as a Legislative Aide, Presidential Aide, General Manager of the Siga Funmaker Community Center, and most currently the Economic Diversification Coordinator. Currently attending school full-time for Business Management. She believes that her work on the CEDS and economic diversification is very important in creating stability and resilience for the future of the Ho-Chunk Nation and its People.
Economic Diversification Officer
Courtnay Funmaker
Courtnay began her employment as the Economic Diversification Officer in February 2023. She is proud to be a Ho-Chunk Nation tribal member and part of the Bear Clan. She has worked for the Ho-Chunk Nation for 28 years in various positions and values the experiences she has gained with the time working for our tribal government.