Department of Heritage Preservation
Research, archive, protect, conserve, and perpetuate the traditional and natural resources of the Ho-Chunk Nation.
Cultural Resource Division
"To preserve, protect, and serve as a cultural resource for the Ho-Chunk Nation."
As we continue to seek out to preserve through research and awareness, as we seek to preserve through our taking on preservation roles and responsibilities, we will create avenues of perpetuation through our own People by way of accurate education, interaction and advocacy of our Ho-Chunk culture.
Contact Information
Ho-Chunk Nation
Cultural Resources Division
P.O. Box 667
Black River Falls, WI 54615
Telephone: 715-284-7181
Office Hours
8:00am – 4:30pm Monday – Friday
Staff
Bill Quackenbush, Division Manager – Ext. 1121
Bill.Quackenbush@Ho-Chunk.com
Ira Anderson – Researcher/Projects Coordinator - Ext. 1056
Ira.Anderson@Ho-Chunk.com
Paula Cleveland – Researcher/Projects Coordinator - Ext. 1028
Lucas Quackenbush – Researcher/Projects Coordinator - Ext. 1022
George Garvin – NAGPRA Researcher – Ext. 1018
Enrollment
As of June 1st, 2019, annual verification has commenced! Please read the instructions (Link, Click Here!) fully before submitting your 2019 Address Verification Form.
To complete your AVF online follow this link here: https://avf.ho-chunk.com/
If you have any questions, please call (715) 284-9343 extension 1015. You can also dial 1 (800) 331-7824
-OR-
Email to: <enrollmentinfo@ho-chunk.com>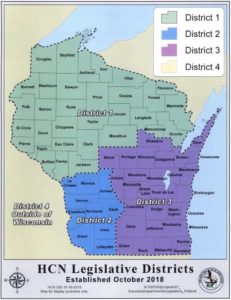 Documents
Request for Information Form (RFI)
For use in obtaining a Certified Degree of Indian Blood (CDIB), Family Tree, Verification of Residence (not a substitute for an AVF), subscribing to the Hooc̨ak Worak Newsletter, and when requesting Minor Tribal ID Cards (in-office only).
Change of Address Form (COA)
COA forms must be signed in front of a Public Notary. Also note that COAs will not be accepted in place of an AVF.
Tribal Enrollment Application Request Form (TEAR)
When enrolling either for membership or descendancy please begin with this form. After completing and submitting your TEAR an application will be sent to you along with further instructions.
Voluntary Tax Withholding Form (VTWF)
With this form you will be able to set the amount of State and/or Federal taxes to be taken out, or withheld, of each per capita disbursal.
Mail Order Request for Duplicate TID Form (MORF)
Mail order requests for tribal ID cards are available for duplicates only, and only after all required information is either provided or updated.
Language Division
The Hoocąk Waaziija Haci Language Division is dedicated to ensuring the Hoocąk Language continues to be a "LIVING LANGUAGE". As a sign of respect to our elders, and the speakers that have come before us. We will continue to speak our language, celebrate our customs, respect The Hoocąk value system and teach our future Generations the "HOOCĄK WAY OF LIFE".