Department of Heritage Preservation
Research, archive, protect, conserve, and perpetuate the traditional and natural resources of the Ho-Chunk Nation.
Notice from the HCN Office of Tribal Enrollment
Wisconsin state law recognizes Identification cards issued by a federally recognized Indian tribes in Wisconsin to be used as a proof of ID for voting purposes. On April 3rd, 2018, Wisconsin Senate Bill 488 was enacted expanding the scope of usage to include, without penalty, for the purchase of alcohol, nicotine (tobacco) products, sale of nonferrous scrap or metal articles to scrap dealers, sales of secondhand articles or jewelry to pawnbrokers, and for obtaining certain prescribed controlled substances. In an effort to promote the integrity of the Tribal Identification Card, and of our Ho-Chunk Nation in general, The HCN Enrollment Division will implement a Tribal ID Card Issuance Policy as follows:
Requirements for all TID Cards (first-ID, expired, duplicate, minor's)
One of the following identification documents must be provided when a card is first issued. You must present the documents at Renewal (i.e. "expired"), and for a Duplicate if they are not in your record.

Valid driver's license, valid state ID card, temporary driver's licenses
Military Identification Card
US Federal Passport
Certified Birth Certificate
Certified Marriage License (for name change purposes)
ID documents will be copied to the electronic enrollment record and returned with an exception to expired tribal ID cards (which will be destroyed)

Current mailing & physical addresses must be verified and updated (when necessary)
Name Change documents (if applicable)
Tribal ID Cards will be valid for a period of five (5) years
Minors must be accompanied by a Parent/Legal Guardian
Legal Guardianship documents must be on file or provided before any TID can be issued
A Request for Information Form must be completed and must include at least two (2) out of the three (3) pieces of identifying information:

Last four (4) of minor's Tribal Enrollment Number
Minor's Date of Birth or
Last four (4) of minor's Social Security Number
Duplicate TID Cards (applies to valid card holders only)
ID documents must already be on file

If ID documents are not on file you must provide them
For those with ID documents on file it may not be necessary to show proof again at the time of print

Card Expiration Date(s) will remain the same as when the TID Card was initially issued (at the time of renewal or first-time issuance)
Photos and signature retakes are not necessary but can be requested
Mail-Order Duplicate TID Cards
Complete a Mail Order Request for Duplicate Tribal ID Card Form (MORF) and have it notarized
Must have photo and signature on file
Mail-order requests will only be accepted for valid card-holders only seeking duplicate TID cards
Payments are limited to Money Order or Cashier's Check (PLEASE DO NOT SEND CASH)
Expired TID Cards (i.e. 'Renewals')
Cards within six (6) months of the Expiration Date will be eligible for renewal
At the time of renewal tribal members will be asked to show proof of ID for file

Expired TID Cards will be accepted as proof of ID but cannot be returned (expired TID Cards surrendered will be destroyed)
Other forms of ID will be accepted (see above: 'Requirements for all [...]')

Photos will need to be taken once again as well as signatures
Cost(s) (effective June 1, 2018)
First-time (minor & adult alike) Tribal ID Cards and Elder Tribal ID Cards are free of charge
Renewal of Expired Tribal ID Cards are $20.00
Duplicate Tribal ID Cards are $25.00
Mail-order Requests will require an additional $5.00 Shipping & Handling fee (with an exemption for elders age 60+)
Acceptable forms of payment include: Cash (walk-in's only), Money Order, Cashier's Check made payable to: "Ho-Chunk Nation"
Cultural Resource Division
Mission Statement
"To preserve, protect, and serve as a cultural resource for the Ho-Chunk Nation."
Vision Statement
"As we continue to seek out to preserve through research and awareness, as we seek to preserve through our taking on preservation roles and responsibilities, we will create avenues of perpetuation through our own People by way of accurate education, interaction and advocacy of our Ho-Chunk culture"  
Contact Information:
Telephone: 715-284-7181
Mailing Address:                                    Physical Address:          
Ho-Chunk Nation                                     Ho-Chunk Nation
Cultural Resources Division                     Cultural Resources Division
P.O. Box 667                                             16250 Helmet Road
Black River Falls, WI, 54615                     Tomah, WI 54660
Staff
Bill Quackenbush  –  Tribal Historic Preservation Officer
Cultural Resource Division Manager
Phone Extension; 11121
Ira Anderson  –  Researcher/Project Coordinator, GPR Operator
Phone Extension: 11056
George Garvin  –  Repatriations Researcher, NAGPRA Representative
Phone Extension: 11018
Paula Cleveland  –  Researcher/Project Coordinator, Archivist
Phone Extension: 11028
Lucas Quackenbush  –   Researcher/Project Coordinator, Archaeologist, GPR Operator
Phone Extension: 11015
Services:
CULTURAL RESOURCES

Preservation related Research & Archives
Ground Penetrating Radar Services
Tribal Monitoring Services
Property Management

TCP Properties & Cemetery/Burial Sites

Native American Graves Protection Repatriation Act

Museum Inventory & Notice of Intent Reviews
NAGPRA, State & Local Reburial Oversight

Tribal Historic Preservation Officer

Section 106/NEPA Review
Government to Government Consultation
MOU, MOA, PA establishment
Tribal Archaeological Surveys
Local, State & Fed Agency Preservation Assistance
Educational Outreach
ARPA Permits
Enrollment
If you have any questions, please call (715) 284-9343 extension 11015. You can also dial 1 (800) 331-7824
-OR-
Email to: <enrollmentinfo@ho-chunk.com>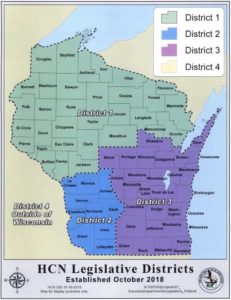 Documents
Request for Tribal ID Card Form (Mail Order & Duplicate)
Used to request duplicate Tribal ID Card.
Request for Information Form (RFI) Updated
For use in obtaining a Certified Degree of Indian Blood (CDIB), Family Tree, Verification of Residence (not a substitute for an AVF), subscribing to the Hooc̨ak Worak Newsletter, and when requesting Minor Tribal ID Cards (in-office only).
Change of Address Form (COA)
COA forms must be signed in front of a Public Notary. Also note that COAs will not be accepted in place of an AVF.
Tribal Enrollment Application Request Form (TEAR)
When enrolling either for membership or descendancy please begin with this form. After completing and submitting your TEAR an application will be sent to you along with further instructions.
Voluntary Tax Withholding Form (VTWF)
With this form you will be able to set the amount of State and/or Federal taxes to be taken out, or withheld, of each per capita disbursal.
Language Division
The Hoocąk Waaziija Haci Language Division is dedicated to ensuring the Hoocąk Language continues to be a "LIVING LANGUAGE". As a sign of respect to our elders, and the speakers that have come before us. We will continue to speak our language, celebrate our customs, respect The Hoocąk value system and teach our future Generations the "HOOCĄK WAY OF LIFE".
Ho-Chunk Nation Division of Veterans Affairs
Mission Statement
The Ho-Chunk Nation Veterans Service Office is part of the County Veterans Service Officers Association of Wisconsin (CVSOA) which is an organization of professional veterans' advocates. In Wisconsin, the CVSO/TVSO plays a critical role in the veterans' advocacy system and is often the initial contact in the community for veterans' services.
Through the County Veterans Service Officer, the CVSOA is committed to Wisconsin counties to provide a vital and efficient system of services and advocacy to veterans, their dependents and survivors.
The CVSOA promotes legislation and policy at both the state and federal levels that is supportive of veterans' rights and issues that are in harmony with our national obligation to veterans and the United States Armed Forces. The association provides a medium for the exchange of ideas and information, training, and support the delivery of services to nearly 488,000 veterans.
The CVSOA recognizes the importance and merit of the congressionally chartered veterans' service organizations and is committed to fostering a mutually beneficial relationship for the common good of all veterans. It is the intent of this organization that every veteran residing in Wisconsin receives the benefits and services to which they are entitled by law and moral obligation.
CVSO Website: www.wicvso.org
Program Description
The Ho-Chunk Nation Division of Veterans Affairs (DVA) serves roughly 394 veterans who are members of the Ho-Chunk Nation. The division offers the same services as a county veteran service office and provides additional tribal services. Those services include an annual emergency assistance fund. The department works to make all disabled veterans service connected, enabling them to access U.S. Department of Veterans Affairs (VA) care.
Partnership
The Division of Veterans Affairs maintains a strong partnership with other Ho-Chunk tribal departments and the regional and county VA offices in Wisconsin. The division issues referrals to the two tribal clinics and the regional VA hospital. DVA also partners with the Executive Housing Department, which runs a veterans home ownership program that provides low interest loans to tribal veterans seeking housing. Other tribal department partnerships include Social Services, the Department of Health, and the Ho-Chunk Housing Community Development Agency. The DVA mainly serves homeless veterans.
Forms